In the fast-paced world of construction, safety is paramount. This resource explores the significance of hole covers, or core hole covers, in creating a safer work environment for construction workers and contractors. We'll delve into their importance, the relevance of OSHA compliance, the safety benefits they offer, and who can benefit from their use.
Why Hole Covers are Important
Construction sites are riddled with potential hazards, and uncovered holes are one of the often overlooked yet critical dangers. Hole covers play a pivotal role in preventing accidents and injuries by effectively covering openings that workers might otherwise fall through. These covers act as a protective shield, ensuring workers can focus on their tasks without the constant worry of stumbling into an unguarded hole.
The Key Role of OSHA Compliance: OSHA 1910.29(e)
The Occupational Safety and Health Administration (OSHA) sets stringent standards to safeguard workers in various industries, including construction. OSHA 1910.29(e) specifically emphasizes the need to cover holes to prevent falls.
1910.29(e)

Covers. The employer must ensure each cover for a hole in a walking-working surface:

1910.29(e)(1)

Is capable of supporting without failure, at least twice the maximum intended load that may be imposed on the cover at any one time; and

1910.29(e)(2)

Is secured to prevent accidental displacement.
Compliance with this regulation is not just a legal requirement; it's a commitment to worker safety. By adhering to OSHA guidelines, construction professionals demonstrate their dedication to maintaining a secure workplace.
Advancing Workplace Safety Through Hole Covers
Hole covers are more than just compliance tools; they significantly contribute to a safer construction environment. By securely covering openings, these covers eliminate the risk of falls, trips, and potential injuries. Their durable orange nylon construction ensures longevity and visibility, making them easy to spot even in hectic job sites. Installation is a breeze, requiring only a screwdriver, which means enhanced safety without the hassle.
Who Needs Hole Covers?
Hole covers are indispensable for a wide range of construction scenarios.
Whether you're working on a high-rise building, a residential project, or any construction site with openings, hole covers are a necessity. Contractors, site managers, and workers alike benefit from their use. From floor openings to shafts and voids, any uncovered space becomes a potential danger zone – highlighting the need for these protective devices.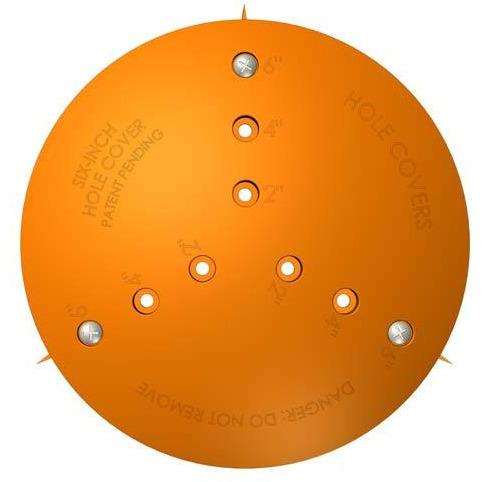 Construction safety should never be compromised, and hole covers stand as a testament to this commitment. By understanding the importance of hole covers, adhering to OSHA guidelines, and embracing them as a part of standard practice, construction professionals can create a workplace where safety takes precedence. These unassuming orange covers do more than cover holes; they safeguard lives and ensure that everyone goes home unharmed.
Getting started
To experience the benefits of hole covers firsthand, explore our range of durable and OSHA-compliant hole covers (or, shop on Amazon). Equip your construction site with these safety essentials, and join the movement towards a safer and more secure workplace.
Remember to use engaging language, real-world examples, and perhaps even quotes from construction experts to emphasize the points you're making. By addressing the importance of hole covers, OSHA compliance, safety enhancements, and the relevance to various construction professionals, you'll create an informative and persuasive article that resonates with your target audience.
External references
OSHA 1910.29(e) - Falls through holes and openings and holes: https://www.osha.gov/laws-regs/regulations/standardnumber/1910/1910.29
National Institute for Occupational Safety and Health (NIOSH) - Construction Safety: https://www.cdc.gov/niosh/topics/construction/
Construction Safety Association of Ontario (CSAO): https://www.csao.org/
U.S. Green Building Council (USGBC): https://www.usgbc.org/